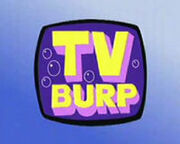 Harry Hill's TV Burp is Harry Hill's most famous TV Show. It started in 2002. It's a spoof of TV Guide shows with a satircal look at the week's TV, and is most well known for the Which is better? There's only one way to find out: FIGHT! and TV Hightlight of the Week scenes that regularly appear. It has won several TV Comedy awards.
Running Jokes, themes
Edit
Characters
Edit
Harry Hill's TV Burp was nominated for Best Comedy Entertainment Programme at the 2007 British Comedy Awards.
It won two 2008 British Academy Television Awards for Best Entertainment Performance (for Harry Hill) and Best Entertainment programme.
Visitors to the British Comedy Guide website voted TV Burp as the "Best British TV Panel Show/Satire of 2008".
Harry also won a third BAFTA for Best Entertainment Performance in 2009.
Sophie Heath from the Daily Mail said the show was "Genius, pure and simple."
Mark Lawson from The Guardian said it was "The freshest and most original show in mainstream television.".